How it all started for us ... the love of Cotons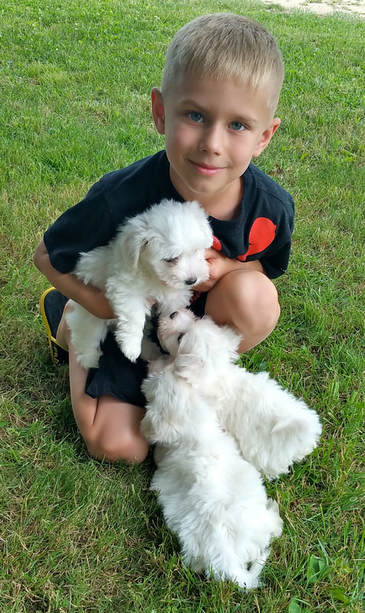 It all started back in 2008 ... we were a well-respected breeder of Bernese Mountain Dogs for over 15 years, and then serious illness struck our family hard - not only my husband, but two of our sons as well. It was then that I made the decision to stop breeding the large breed Berners. However, we had a son who was 11 who we needed a distraction from the health issues of his siblings and Father ... that is how Q-tip came into our family's life. I had reached out to a close friend, a breeder of Golden's for over 30 years, who helped guide me to find that "perfect little dog" for my son, to help divert his attention away from the family's illnesses. She had told me that years ago she researched a very fun-loving, comical dog, and found the Coton DeTulear. At the time, I hadn't heard of them ... and so my search began, and after much diligent research, I was fortunate to find an outstanding breeder and Q-tip came into our lives. (She is featured in the photo above, during the filming of Discovery Channel's Animal Planet, Too Cute.)
And so it began ... since it seemed like everyone wanted Q-tip in their bed each night, it was musical beds. Q-tip was quite a therapy dog, little did she know, healing the bodies and souls of four wonderful men in my life. You see, Cotons are a VERY special breed of dog - they are little clowns, and quite adoring of human companionship. Their fur is like no other dog - it's texture is so soft and fluffy, not like regular dog hair, and they don't shed and are considered hypo-allergenic! They do require a good groomer, or you can keep their hair cut short in a puppy cut for easier care (we do that here because we do have a 10 acre farm).
A year later we added Gizmo, and then two years ago we were extremely fortunate to get Phoebe and Delilah out of Denmark. We were also contacted by Animal Planet, and had them filming here for 10 weeks to feature OUR dogs on their popular TV show called Too Cute. They had free reign here on our farm, and in our home; they not only featured our dogs and puppies, but we also raised Pipsqueak, our miniature Pygmy goat inside our home right alongside our Cotons. The filming included our family's veterinarian, Dr. Darren Weisenstein from Four Paws Animal Hospital in Manalapan, New Jersey. Here are some pictures of that filming, which include Gizmo and Pipsqueak, the Pygmy goat.
---
Very limited breeding

Possibly a litter early in 2021

If you are interested, please contact me at 609-918-0351.
​
The price for one of my beautiful puppies is $3000

My puppies leave here with a Vet health certificate, wormed, first set of vaccinations, puppy kit (food, directions, sales agreement, ​health certificate, etc.)

Please know that I am at the end of breeding these wonderful dogs. I am only planning one or two more litters in the future.

I will be taking in rescues, so feel free to contact me if you are looking for an adult dog.

---
ABOUT THE COTON DE TULEAR
A Coton DeTulear is a welcome addition to any family, young or old, large or small. Cotons are openly affectionate, confident, eager-to-please, easily trained with captivating personalities. These adorable dogs are small and sweet, with cottony long hair, and the warmest of hearts. Cotons have a "don't worry - be happy" attitude towards everyday life. When you are feeling troubled, or having a bad day, your Coton will greet you with it's happy-go-lucky attitude.
Cotons are such happy little companions, often referred to as clowns. Nothing ever seems to bother them. They almost seem to mumble - doing their very best to "talk" to you. They are very intelligent and form very strong bonds with their owners. Some will cock their head attentively when spoken to as if really trying to understand what you are saying. They are so easily trainable, often needing to be shown directions only a few times before learning.
The Coton thrives on love, and are excellent companions for elderly as well as children. They do well in a large family, or a single household. They never tire of too much love! You will be showered with kisses, as they are extremely affectionate dogs. Being a lively companion, they are always ready to play and will clown around and jump to attract your attention, but are then very happy to sit quietly on your lap or just nestled beside you. Most Cotons are not barkers, however, they will act as a guard alerting you to someone at your door, or coming into the house.
Cotons get along very well with other dogs, cats, and children. They are good travelers, are easily trained and housebroken. Ours love to ring the bells on the door to let you know it's time to go out. The Coton loves to travel, and is always ready for it's next adventure. Their small size, "dander free", non-shedding coat, and charming, easy-going personality makes them a welcome addition on any trip.
Their predominate color is white, but they can have beige, tan, or gray/black spots which will fade with age. Their slow growing hair (not fur) will typically reach a length of 4-6 inches but can easily be maintained shorter for a puppy cut. The feel of the Coton coat, whether long or short, is nothing short of amazing as it is so very soft. Cotons also have a long life span, living for about 16 years. As a breed, they are very healthy.
If you would like information about our dogs, please contact us at NewJerseyFarmer@aol.com
.